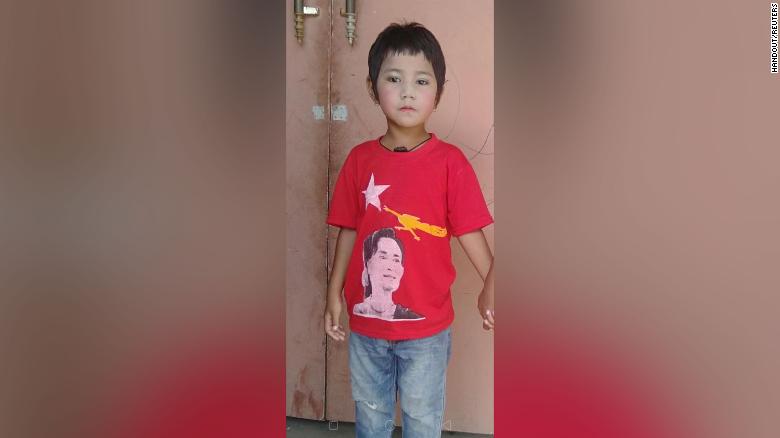 Khin Myo Chit, 6 years old, died as she ran into her father's arms in fear, as Myanmar security forces kicked down their door in a series of raids.
She was previously reported to be seven years old, but her family has confirmed that she was only six on March 26.
She was the youngest casualty of the continuing crackdown on dissent orchestrated by coup leader Gen. Min Aung Hlaing who grabbed power following a democratic win from Aung San Suu Kyi in the country's latest elections. A report from CNN also mentioned that 20 other children had been killed in the hostilities towards protesters.
Who is Khin Myo Chit?
The same report from CNN said that Khin Myo Chit died from a gunshot would that hit her as she ran in fear towards her father. Security forces arrived at their home and kicked down their door in the city of Mandalay in Myanmar. The incident happened on March 23.
"They shot her as she leaned towards my chest. I ran and was carrying her and could not even take a look at them (security forces) after she was shot," her father told Reuters.
Her family rushed her to a clinic typically set up by doctors and nurses for victims of protest violence. USually, these injured people were not allowed to receive care from hospitals. The military had occupied hospitals.
Khin Myo Chit was already dead upon arrival at the clinic, said the doctor who attended to her. There was nothing they could do to save her.
Family in hiding
Following the death of Khin Myo Chit, her family has since gone into hiding, especially with the worldwide media exposure. They felt that the government security forces would return to further harass or inflict more violence on them.
"Why did they (soldiers) shoot her to death, for what crime? And what sin have we committed?" the girl's sister said from an undisclosed location. "What have we done? And what has the child done?"
The names of the child's relatives have been concealed for their safety.
Aside from killing the child, the same security forces took away her brother, and the family has not seen him since.
"He was arrested by the military and (we're) not sure whether he is alive or not. We have no information from him yet," she said. "We dare not go home till now and are still in hiding," she said. "There are still soldiers and police in our house."
Military may seize child's body
Just like what happened to slain teen Myanmar activist Angel, who died a month ago and was subjected to desecration by Burmese forces, Khin Myo Chit's family was afraid that her tiny body would also be exhumed by state forces against the family's wishes.
"We have to bury her without letting everyone know (and) we couldn't go with funeral cars as we worried they might steal her body, we could only use the house cars for her funeral," she said.
"When we got to the cemetery, a few people were there so we had to hide her body, we had to wait until they were gone and only when no one was around could we bury her."
They were unable to grieve properly and give their daughter a proper Muslim funeral.