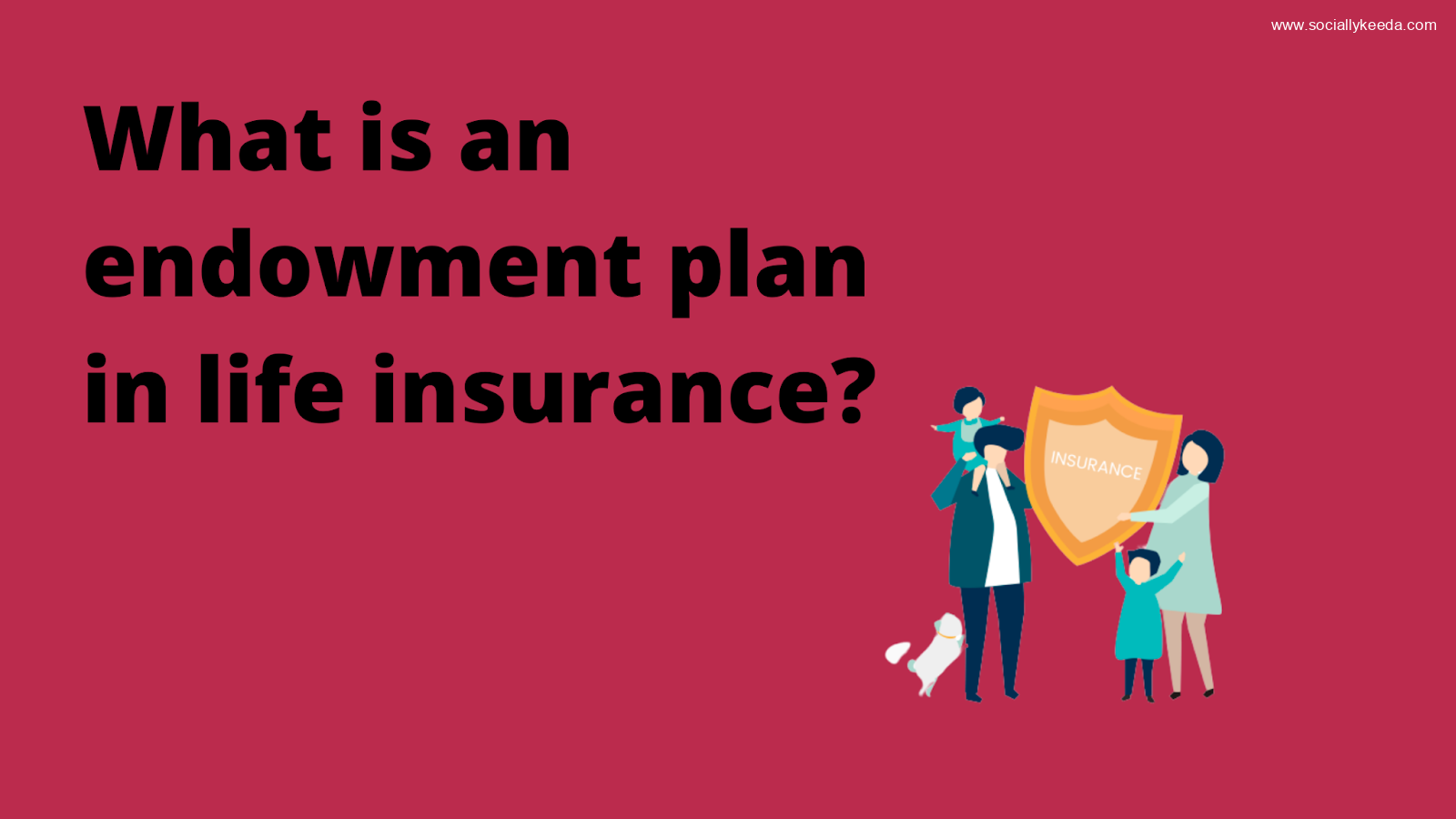 What is life when you cannot fulfill your dreams and provide for your family? We have read and heard many quotes on the importance of savings and investments. At times, some might think, 'what is the need to save because you only live once, so live it to the fullest.'
'You Only Live Once' is a true statement, but that doesn't mean you live a life where ignorance is bliss. Life is one, so one should strive to live it to the best possible version where you can earn, save, invest, and create a decent reserve that will have your back even after you are hit with adversities.
One of the effective measures that can be used to have a safer financial backup is buying life insurance. To be specific, an endowment policy would do.
An endowment plan is a part of the life insurance tree that acts as a savings plan and life insurance. This double-layered beneficial plan serves as financial aid for both you and your loved ones.
This blog will help you learn about,
What is life insurance and its benefits?
What is an endowment plan and its benefits?
What is the best endowment plan in India?
What is Life Insurance and its Benefits?
Life insurance is nothing less than a safety net that will help you and your family in dire times. Here, the life insured pays premiums (as per the selected type of plan) and shall receive the maturity benefit (not every life insurance offer) towards the end of the insurance policy.
Under life insurance, the insurance company pays the beneficiary with a lump sum, also known as a death benefit, if the life insured meets with an untimely death when the policy is active.
There are different types of life insurance, and they are as follows:
Term Insurance Plan
Endowment Plan or Savings Plan
Unit-Linked Insurance Plan (ULIP)
Child Plan
Retirement Plan
Group Life Insurance
Money-Back Plan
Critical Illness Plan
Life insurance is an essential asset that one must possess, and the benefits associated with them are as follows:
Secure Financial Journey: With life insurance in your kitty, you are rest assured that you can have a smooth run without any financial buffer. In life insurance, the insurance company assured you with assured lump sum benefits and other perks that one needs at different stages of life.
Coverage for Life: As the name suggests, life insurance safeguards your life for the selected number of years (depends on the plan). With certain perks available in the plan, you can always choose to increase your existing coverage (sum assured) as per your requirements.
Investment Options: Apart from offering death benefits, they also allow the life insured to put a portion of their money in investments so that the user can reap better benefits (but they come with market risk)
Tax Benefits: One of the best perks of having an insurance policy is saving taxes. Here, the premiums paid by the life insured are tax-deductible under Section 80C of the Income Tax Ac (1961). It implies that up to 1.5 lakh in premiums that are annually paid are deducted from the user's annual revenue, minimizing tax payment. Moreover, the plans with maturity benefits are free from tax, as mentioned in Section 10(10D) of the Income Tax Act.
What is an Endowment Plan?
After getting a basic knowledge about life insurance and its importance, let us understand the endowment plan, also known as the savings plan.
An endowment plan is an amalgamation of life insurance and savings instruments. Under this plan, if the life insured is alive until the end of the term, they shall receive the sum assured plus a bonus as a maturity benefit.
Also, if the life insured meets with an untimely demise before the plan reaches the maturity phase then, the death benefit shall be paid to the nominee(s)/legal heir like every other insurance policy.
Endowment policy comes with higher premiums because they provide higher returns of sum assured than standard insurance policies. Apart from these benefits offered from an insurance perspective, an endowment plan acts as an economic aid for your long-term and short-term dreams.
There are different types of endowment plans in the Indian market, and they are as follows:
Low-Cost Endowment
Under this type of endowment plan, the premium is reduced. It allows the life insured to save for future premiums after a certain period. Yearly bonuses increase the amount you will receive when you reach retirement age. If we talk about the purpose of this type of plan, you can use it to repay the loan or other goals; this type helps establish funds within a particular time frame.
Unit Linked Endowment Plan
Under this type of endowment plan, the policyholder can leverage fixed-term savings, including life insurance. The policyholder pays the premium, where a portion of it goes to insurance and investment (fund chosen by the life insured). The ROI is solely dependent on the market performance.
Guaranteed Policy
Here, the sum assured is either in death or maturity benefits. The face value of an endowment plan is paid to the policyholder after they reach the maturity phase or to the nominee if the policyholder meets with death. In this type, the plan's bonuses are not guaranteed. Therefore, with an endowment plan, one can benefit from guaranteed policy payouts and a non-guaranteed bonus.
Full Endowment Plan
This type is also known as a profit endowment plan. It guarantees the life insured with sum assured. They have the provision of the death benefit. Under this type, the life insured pays a bit extra incentives. Therefore, the maturity bonus they receive after the maturity period is typically more significant than the sum assured.
When Should you Buy an Endowment Plan?
If you wish to have a decent reserve for your dreams and family, buying an endowment plan is good. But, the person must remember that it is prone to risk as the investments made might be affected due to market changes.
Therefore, an endowment plan should be purchased by those,
Who wants to ensure that their family is in safe hands even if they aren't alive.
Have certain future objectives and aim to achieve them.
To invest in a corpus to pave the way for long-term investments and goals.
If you have a guaranteed flow of income and some additional side cash inflows (like business, freelance, and many more), it will be a good option and a choice to invest in an endowment plan because endowments suit the best for those who keep long-term in mind.
Because the longer the plan's duration, the greater would be the impact towards the end.
As a result, people with intermittent income can invest in flexible pay/single pay plans but not in the standard endowment plans because of delay in premium payment can pose issues.
Best Endowment Plan in India
After learning about the endowment plan and the benefits associated with them, let us read about the best endowment plan that one can consider buying in India for 2022, and it is,
Aditya Birla Sun Life Insurance SecurePlus Plan
If you wish to protect your loved ones and at the same time prioritize your loved one's short-term objectives while remaining flexible then, this plan by the ABSLI fits well for your wallet and life.
The money you earn doesn't need to be enough to suffice the needs and requirements of you and your family. Therefore, this plan understands your need to cherish the second source of income to weave a better, reliable, and secure your financial future.
Let us view some of the features of this plan,
Death Benefit: Under this branch, the death benefit is paid to the beneficiary if the life insured passes away when the policy term is active (make sure it isn't under the lapsed or reduced paid-up method).
Also, the beneficiary has the opportunity to receive the death benefit in annual/monthly installments that can be payable towards the end of the year/month over a time of 5 years.
Maturity Benefit: Towards the end of the term plan, the life insured can exercise the commutation option, which allows you to receive a lump-sum payment instead of the income benefits at any time during or after the term plan. The calculated value of the outstanding benefits will be paid in lump sum by the insurance company.
Survival Benefit: Under this benefit, if the life insured manages to surpass the term plan then, they will receive an income benefit for 6, 8, 10, or 12 years towards the end of the plan in – monthly, quarterly, half-yearly, or annually, depending on the benefit payout frequency you select.
Customizable Benefits: What is the harm in making your plan more secure and inclusive? With this flexible and customizable benefit, the life insured has the option to supplement their insurance coverage with riders, which are available for a modest price.
ABSLI Accidental Death Benefit Rider Plus
ABSLI Critical Illness Rider
ABSLI Surgical Care Rider
ABSLI Hospital Care Rider
ABSLI Waiver of Premium Rider
To know more about this dual beneficial plan by the ABSLI, click – ABSLI SecurePlus Plan.
Conclusion
If you want to give wings to your dreams then, opt for the best in town from the credible in the market. Because a plethora of plans might be a fit for your goals and desires, always choose the one that is best in the insurance market, has a cost-efficient plan, and has responsive and knowledgeable customer service.
Stay Tuned with Sociallykeeda.com for more Entertainment information.