News
Taj Mahal Shut Down After Received a Threat Call, Caller Arrested From Firozabad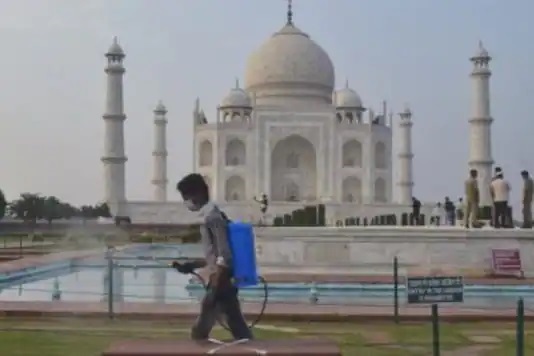 A piece of breaking and shocking news comes straight from the city of Agra where one of the seven wonders of the world Taj Mahal get shut after receiving a threat call from an unknown person. The whole incident took place on Thursday morning around 11 AM when all the tourists are enjoying walking in the garden of the Taj Mahal and feels the love in the air and then suddenly, the Uttar Pradesh Ploce received a deception call that in the monument a bomb is placed and any time it will blast and after that, the Uttar Pradesh Police comes in action and informed the Central Industrial Security Force (CISF) personnel who vacant all the monument rashly and started finding the bomb which is a hoax to placed in the monument.
Later, after so much hard work and effort, the authorities decided that there is no bomb in the monument and after 11 AM IST the police started the entry of the visitors into the monument and passes a notification that there is no bomb in the place. The Inspector-General of Agra A Satish Ganesh attended the threat call, and he tells in a statement that "This morning, an unknown person called on UP 112 and said there will be a bomb blast at the Taj Mahal. Immediately, as per SOP, our bomb squad and other teams conducted a thorough search of the premises. So far, our field units haven't given any information about such an item being found".
After that, when no bomb was found in the monument the investigation for the call is started, and they started tracing the number, and after so much effort, they find the real one who calls him and there's them about the bomb. After that, it is found that the phone was placed by a resident of Firozabad and he made this call because he was angry after the cancellation of military recruitment by which he mad this call and now, he was found and taken into custody.
This is not the first time when these types of threat calls were placed by anyone for any monument and mostly these types of calls were fake because the theatres call for their personal issue and later they have to stay in the custody. We have to not fear about these calls and sometimes we have to ignore these types of calls for better prevention from fear. Stay tuned with us for more update about this.
Join Our Telegram Channel