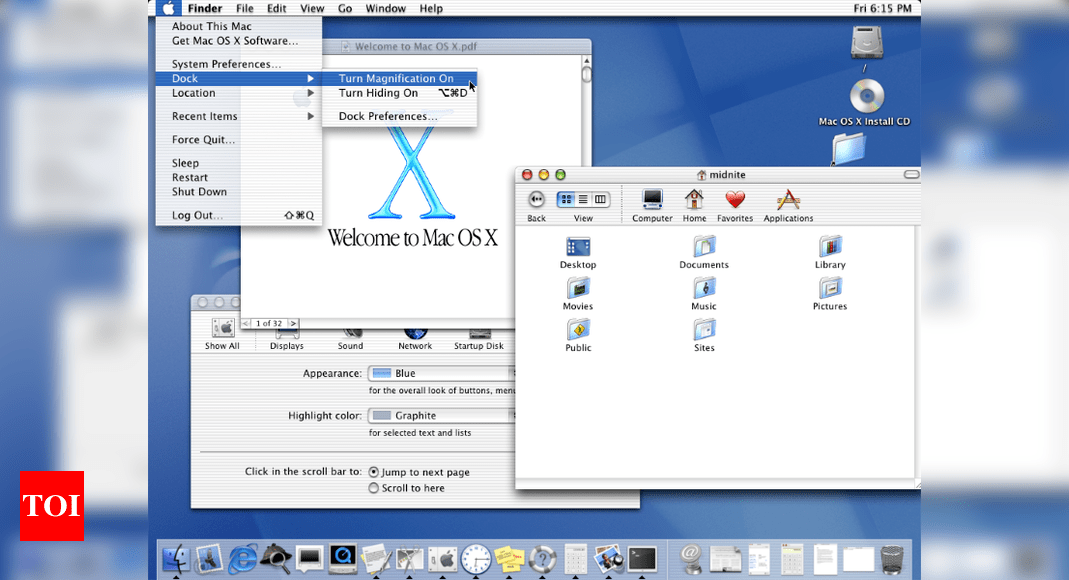 [ad_1]

There are two types of computer users in the world: those who use the Mac and those who don't. Chances are quite high that most Mac users, if not all, will tell you that using a Mac is not using a 'computer'. A Mac is a habit, it's an experience, it's a way of life — a Windows computer is a computer — a really good one (depending on what you pay) but it is a computer that you use to get the job done.
It's no slight on Windows as an operating system as it is the most-used OS, remains quite easy to use and strikes the right chords. But what gives macOS the edge is that you get all things Apple with it — great hardware, easy-to-use software and privacy. And of course, the much-vaunted Apple ecosystem, which is the equivalent of Hotel California — you can check out any time you want but you can never leave!

One small step for Mac, a giant leap for Apple
20 years ago on this day, Apple introduced macOS X to create the first-ever 'real' alternative to Windows. Of course, there was Linux but it never became mainstream and was always the hipsters' choice. Apple with macOS targeted the hipsters, professionals, the mainstreamers, developers, students — everyone.
Steve Jobs while announcing the availability of Mac OS X (yes, back then it was Mac OS and not macOS) said this, "Mac OS X will delight consumers with its simplicity and amaze professionals with its power. Apple's innovation is leading the way in personal computer operating systems once again."
"Once again" was the key here. For much of the 90s, Windows and Microsoft were the superstars of the computer industry, steamrolling one and all that came in its way. Apple made strong efforts but was seen as an also-ran and the story of almost shutting down is well-documented. Enter Jobs 2.0 — Apple was still not a force to reckon with but taking small steps to challenge the supremacy of Microsoft and Windows.
With Mac OS X, Apple took one small step for Mac which ended up being a giant leap for the entire industry.

Why do some people prefer Mac over Windows?
The keyword here — much to Apple's chagrin — is some people and not most people. One of the big reasons of the popularity of Windows is that you can find it a laptop/PC that costs Rs 25,000. Mac, on the other hand, starts at the higher end of the price spectrum.
Despite Mac being 'cool', Microsoft Windows enjoys a lion's share in the desktop OS share. Data suggests that almost 75% of this market is dominated by Windows — in other words, three out of four people using a computer are using Windows. Apple has a 16% market share and that's why it's some people and not most people.
But those some people? They seem to be legionnaires following the cult of Mac with a never-seen-before devotion. Actually, we have seen it with the iPhone. And the iPad. And the AirPods.
macOS remains really simple to upgrade compared to Windows. When Apple drops an OS update, it doesn't really seem like a 'task'. However, every time Windows update lands, it's a different story. Mac users look forward to OS updates whereas the majority of Windows users — lack of hardware support among other reasons — don't really look forward to them.
Secondly, Windows doesn't come free on all laptops. macOS comes pre-loaded on every Mac device you buy.
There's zero — zilch, nada — bloatware on macOS. Windows? From Candy Crush Saga to that anti-virus software that crushes you under their incessant notifications.
Tools like Pages, Numbers, Keynote are all free to use on macOS. On Windows, you will have to pay to use Word, Office, PowerPoint and other Office Suite of apps.
macOS remains far more secure and privacy focussed than Windows. Apple has an edge on that front over all its rivals.
In 20 years, macOS has seen it all — brutal criticism for its features and 'exclusivity' but it has not just survived, it has actually thrived. A recent report indicated that Microsoft's market share had been shrinking — by 4.9% — in 2020 compared to 2019. It is Apple — and Google with ChromeOS — that stands to gain the most. And to that effect, Apple every year has been making it a refined and solid OS. Such is its impact that once you swear allegiance to Apple and Mac, there may be no looking back.
[ad_2]
SOCIALLYKEEDA.COM MAIN PAGE –CLICK HERE